#2018Wrapped: The guilty secrets of the Bop Squad, as revealed by Spotify
Bop appreciation truly is a vocation, it seems. In the collective 107,213 minutes that we've spent listening to Spotify in 2018 – roughly translated as 74 days – we could have:
mastered new hobbies (karate perhaps? baking, more likely)

got fit (in our defence, a gym membership is much more expensive than a Spotify subscription)

watched Avengers: Infinity War 670 times (have you seen that film?!)
I suppose musical indulgence has its positives, and our refined palates for bop tasting has resulted in this rather glamorous website. But what dark secrets have been unearthed by unwrapping Spotify's traditional end-of-year deep dive into our listening habits? Be afraid...
Meg Holland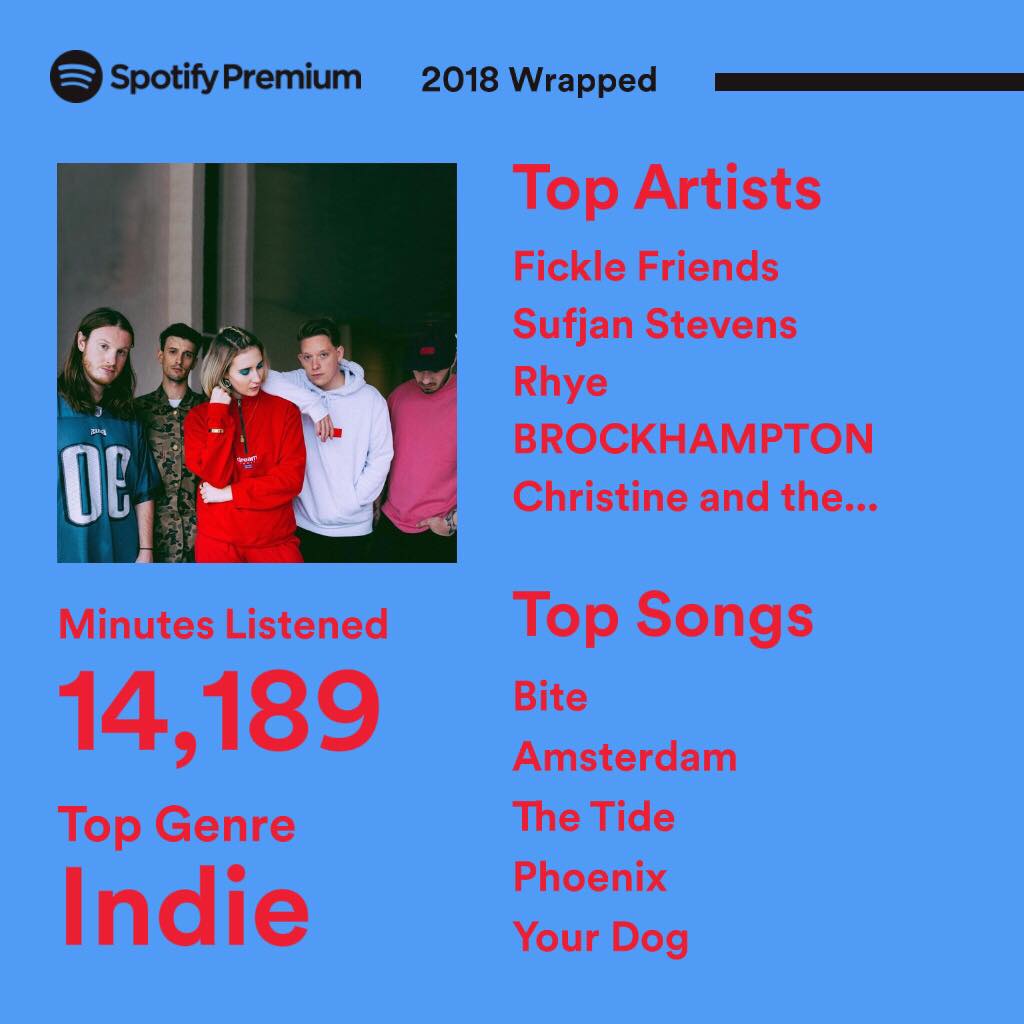 It turns out I'm pretty predictable – 14,189 minutes of my year were spent listening to all the music I thought I would. Binging on You Are Someone Else at every possible opportunity resulted in Fickle Friends ending up on top, brilliant new albums from Brockhampton and Christine And The Queens ruled the end of my summer, and a random Daily Mix recommendation ended up being one of my most-played tracks of the year.
In short, Spotify's revelations haven't exactly been a huge enlightenment. However, it has reminded me that I spent way too much time listening to that song or that artist at that time of the year. When it comes to listening to my music I am a disorganised mess, and I feel I'd rather not have found that out.
New discoveries have taken over my life
If this has taught me anything, it's that my listening habits seem to revolve around finding a new artist, listening to them until I can't stand them anymore, and repeating this cycle endlessly – see how my top 100 playlist features eight Sufjan Stevens tracks, seven from Fickle Friends, and another five from BROCKHAMPTON. I'm certainly a creature of habit when tuning into new music and I don't know if I'm happy about it.
There are certainly better ways that I could be organising my listening but I can't help the obsessiveness that comes over me when I find a new artist. I just want to listen to every single thing that they have ever released and then I just end up hating them. Worse than that, all of my everyday favourites get cast aside for a week of temporary listening pleasure.
Maybe I'm taking all of this a bit too seriously.
Call Me By Your Name acoustics
Why did obscure '80s hit 'Love My Way' by The Psychedelic Furs make it in to my top five tracks of the year? The only golden oldie that features on my entire top 100, the track features in Luca Guadagnino's Call Me By Your Name - the sun-drenched, Oscar-nominated romance set in Northern Italy. I found myself falling in love with Sufjan Stevens after scouring the web for the movie's soundtrack, and 'Love My Way' turned out to be the '80s gem I never knew I needed.
It's been a bit of a hip-hop awakening
Up until this year, my roots have stuck firmly in indie and refused to look elsewhere. However, this year has seen artists like Rich Brian, Yeek, and BROCKHAMPTON joining the obligatory Drake cameo in rocking up alongside Beirut and Parcels as my firm favourites. Although indie again prevailed as my top genre, I'm happy to see that I'm branching out – at least a little bit.
My mammoth 34,283 minutes with music was headed by a whole day – yes 24 hours – with the fantastic Wolf Alice. (Did you know I met them once? A story for another day.) They are in excellent company, too; other top artists include Queen of All Things Dua Lipa, Scandinavian bop purveyor Sigrid, and the Arctic Monkeys, who stake a claim to being 2018's most controversial band. One thing's for sure: cut me open and you'll find pop running through my veins.
Nerd culture reigns, even in music
You probably haven't heard of Murray Gold, my fourth most-played artist of 2018. Is he an obscure indie performer? An up-and-coming electronic wunderkind? Well, those that do know Gold know that he dabbles across a wide range of genres. Have you ever launched from 'Vale Decem' into 'Love Don't Roam' in one sitting?
Perhaps some of his other titles will give you a clue: 'Clockwork TARDIS', 'A Pressing Need to Save the World', 'The Dark and Endless Dalek Night'... Yes, Gold is the man behind the sweeping scores of BBC TV show Doctor Who. Nerd culture reigns, even in music, apparently.
('I'm Coming to Get You' to write an essay to, btw.)
Oldies are goldies
Sometimes returning to an old favourite is just as satisfying as chasing a new bop. Pre-2018 releases make up roughly a third of my top 100 playlist. My personal golden oldies include:
Like a trip down memory lane yourself? Our Insta bop of the day celebrates golden oldies every #ThrowbackThursday; you can check out the latest right now.
Don't fight it, it's coming for ya, running at ya…
I'm so sorry. It's sneaked in at #84.
"SO TELL ME DO YOU WANNA GO?"
Xavier Voigt-Hill
Before you go and start calling me "such a cliché of myself" or something, allow me to preface these déjà vu results with three important points: Tom Misch is the dreamboat behind the best debut record of the year, Bloc Party toured my favourite album of all time so of course I was duty-bound to freak out, and there's nothing finer than a bit of ODESZA if you need to either blow your mind or focus it in on a pesky slab of coursework. But there's more to my roundup than that.
Following a very conscious effort to broaden my musical horizons, total minutes listened more than doubled this year as I trudged through more than 9,000 tracks in the quest to listen to something more than that Lorde one from 2013 about buying some orange juice and being deeply in love or something like that. In the end, only SOPHIE managed it, but who's the real winner here? Me, obvs.
something something noughties
Not to sound like a pretentious underground hipster dick or anything, the sight of a track in my playlist that isn't from the last year is as much a tremendous rarity as a good Pale Waves single since they signed to Dirty Hit. In fact, only five tracks of my top 100 date back more than five years, with the oldest dating back to that weird point in the summer where I thought sticking every album I've been putting off for years into one playlist and shuffling it would make sense.
In the end, that experiment was aborted in favour of just making a list of the things to try and convince myself that I was actually making progress, but not before a delightful evening bouncing blindly around eastern Hampshire's train stations introduced me to this unsung hero from Nelly Furtado's 2006 opus Loose. I didn't appreciate Woolworths-era pop enough.
Sir Mix-A-Lot no more, I guess
Glance at any of my previous reports from Spotify and you'd think I had some sort of allergy to any song that hadn't been marinaded overnight in some synthy soup concoction, such was the prevalence of remixes. This year, however, marks the first in five years without a single one in the top 10 tracks – Kartell's enchanting take on Karma Kid's 2014 cut 'Like I'm On Fire' fell one spot short of that – and just one actual 2018 remix of a 2018 track. Despite The Internet's 'Roll (Burbank Funk)' being probably slight better in its original Hive Mind form, it's Kaytranada's turn that earns that coveted honour – although probably only because he waited until last week to put 'Nothin Like U' into the world and snap his hiatus with a proper bang.
Australia: as good at music as they are bad at subtly sandpapering cricket balls
I haven't made it quite as far as starting each day with a chorus of 'Advance Australia Fair', but the sheer variety of Australian acts that made it into my rotation this year is easily argument enough for me giving Nicki Chapman a call and defecting down under. Things started well in January as Troye Sivan made exclamation marks great again with the thrilling rush of 'My My My!' before new names like Slum Sociable, Jeffe, and Geowulf all made their marks with deliciously slumbering debuts as the year went by. Top marks, however, go to a Melbourne quintet by the quite marvellous name of Rolling Blackouts Coastal Fever, whose June LP Hope Downs comes jam-packed with vocal harmonies and more jangly delight than you could shake a stick at, particularly here on 'Exclusive Grave'.